RAW Rhythm Festival
Live dance festival in collaboration with MOJO Concerts, MTV, and G-Star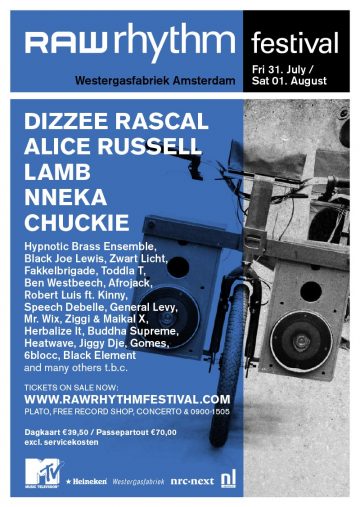 On 31 July and 1 August 2009 Blue in Green organised the RAW Rhythm Festival which took place at various venues and locations in and around the Westergasfabriek, a former gasworks factory in Amsterdam. It attracted no less than 7,000 visitors each day. The festival was the idea of Eric Holman and Eymert van Manen and brought together acts from the fields of dance, hiphop, soul and pop music in one great celebration.
Innovative acts
The festival had six stages where alternating popular and innovative acts were programmed, such as Ryan Leslie, Lil John, Chuckie and Lunice. This new style festival was the idea of Eymert van Manen further developed by Blue in Green as creative producer and promoter, acting for MTV Networks and organised together with G-Star Raw and MOJO Concerts.
International city festival
Raw Rhythm Festival was an international oriented city festival for young people who love original and progressive music. The programming consisted of the latest trends in dance and urban music, ranging from rap, reggae, soul, reggaeton, electronic dance, hiphop and turbo crunk. Originality, progressiveness and the desire to experiment characterised the Rhythm Festival.