Sinterklaas
Sing-a-long Book
A Unilever promotion in ETOS shops nationwide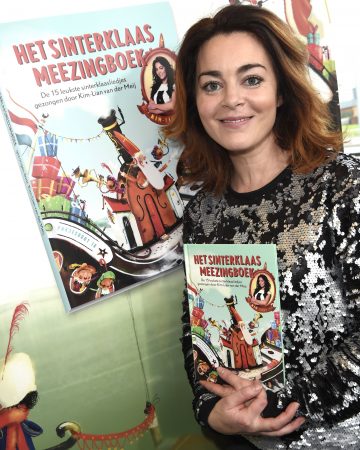 Blue in Green has been developing and producing the Sinterklaas Sing-a-long books for three years in a row, on behalf of Unilever. The books which combine song lyrics, illustrations and music, fly off the shelves at ETOS stores where customers receive a gift book when purchasing promotional products. More than 500, 000 books in three years and more than 1 million streams! In 2017 the book was in the Top 3 of best sales promotions at ATOS, thanks in part to the collaboration with celebrities like Angela Groothuizen, Kim-Lian van der Meij, and Maan.
New impetus for a great Dutch tradition
Sinterklaas is a real children's party: gifts, surprises and enjoying cosy times at home. And a great Dutch tradition of singing Sinterklaas songs together! The Sinterklaas sing-a-long books give this tradition new impetus.
Well known artists
14 Sinterklaas songs are included in the annual Sinterklaas Sing-a-long book, each year sung by a different artist: Angela Groothuizen (2015), Kim-Lian van der Meij (2016) and Maan (2017). The songs have been streamed, listened to and downloaded more than one million times.
Everyone enjoys the Sinterklaas Sing-a-long Book
Each song has its own special illustration page. And each has been animated on a specially developed website so that the songs also appeal to the imagination in an alternative way. Parents and grandparents look forward every year to the new edition of the Sinterklaas Sing-a-long Book and often give it to the children in their family as a gift on 5 December.
Sales promotion for Unilever in ETOS shops nationwide
Blue in Green developed this promotion (including the website) on behalf of Unilever, the Netherlands, and ETOS. Shoppers at ETOS receive the fantastic books (in three years more than 500,000 have been distributed) for free on purchasing two promotional products from Unilever. The Sinterklaas Sing-a-long Book was one of the most successful sales promotions for ETOS in 2017.
Festive afternoon for underprivileged children
More than one hundred children scream and sing as Sinterklaas and the Petes enter the large hall of Stadion Galgenwaard. In itself, this was not so special. But these were children who don't normally get the opportunity to go to such events. They, together with their parents, enjoyed a circus-like warm-up and a dazzling main performance put on by Maan (2017). The festive afternoon, when the first copy of the Sinterklaas Sing-a-long book for 2017 was presented, was organised by Blue in Green in collaboration with the Toy Bank, Utrecht. All the children received a Sinterklaas Sing-a-long Book. This doubled as a press presentation, ensuring a high attendance of press, radio and TV camera crews.