Your region then & now
Twelve books capturing 80 years of Dutch history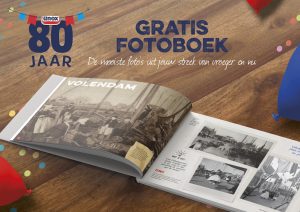 This series of twelve reading and picture books are a sequel to the successful series 'Your region from the air' (2016). Blue in Green again produced a series of twelve books in 2017, especially for the 80 year anniversary of Unox, capturing 80 years of Dutch history. The books juxtapose the past and the present in a surprising way. Blue in Green was responsible for the idea, concept, photography, text, production as well as the PR and marketing.
Content of 'Your Region Then & Now'
The books invite the reader to look at their own region in a different way. At buildings with a fascinating story. At celebrations and customs in the days when everything was captured in black and white. At streets and passages where in days gone by residents attempted to make the best of their lives. Working hard to contribute to making the Netherlands the fantastic country that it is today.
The photos invite you to step into the past. And that is precisely the intention of this photo book and of our client, Unox.

Unox 80 year anniversary
The Netherlands and Unox belong together, and have done ever since Unox was born in 1937. In 2017 the company celebrated its 80th birthday. Amongst the celebrations was the publication of a photobook 'Your region then & now' showcasing the icons of our country. This series was enthusiastically received: all 250,000 books were snapped up by customers within just one week.